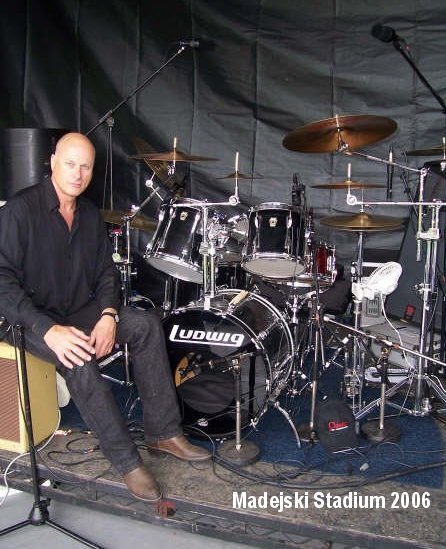 Name: John Skelton
Height: 5' 8½ "
Birthday: March 16th
Eyes: Blue/Grey
Past Releases and Recorded With:
Albums;
'Chicago Blues Brothers' (Chicago Blues Brothers)
'Almost A-Live' (The Magnets -
with Vic Collins from Kursaal Flyers and
Russ Strutter from the Wilko Johnson Band).
'About Time I & II" (Russ Strutter),
'My True North' (Steve Cherelle Band),
'On The Button', and 'By Appointment' ('Panik')
'The Face' (The Chip Hawkes Band)
Early singles with Sadie's Expression (late 60's);
'Yesterday Was Such a Lovely Day'
'Deep in My Heart'
'My Way of Living'
'Old Whitehall Number'
'Love at First Sight'
'Annie Wagon'
Also lots of studio sessions at the Marquee, Trident, Olympic and other top London recording studios.
Member of Other Bands and Bands and Musicians Worked With:
Eddie and the Hot Rods, Love Affair, Dave Finnegan's Commitments, The Chicago Blues Brothers (featuring musicians from The Kinks, Marty Wilde, Westlife, The Moody Blues, ABC, Eric Clapton, Robbie Williams, ABC, Paul Young, Van Morrison), Snafu (with Bobby Harrison from Procul Harum), Pink Fairies, Larry Wallis (Motorhead), Peter Perrett (The Only Ones), Roman Jugg (The Damned), Denny Laine, Sweet (with Brian Connolly), Panik, The Chip Hawkes Band. John was also in a couple of bands with John Lennard, who was Bill Legend's bass player in a number of projects after T-Rex (Zooky, Nightriders)
Fave Bands and Artists:
The Doors, The Who, Pink Floyd, Deep Purple, Cream, Hendrix, Santana (original line up), Foo Fighters, Steve Earl, Jeff Beck, Gary Moore, Toto and Rush
Drums and Percussion:
John began playing Ludwig drums at 17 years of age with an 'Oyster Blue Super Classic' (the typical Ringo Starr kit) which he still owns and will never part with. During the 70's Ludwig made him a custom white Super Classic in BIG sizes, 26" BD and toms ranging from 13" to 20". The 5 piece kit he plays now is part of a bigger set that he bought in the early 90's - a black Ludwig Classic 13 piece with full lug power toms, 6", 8", 10", 12", 13" & 14" racks and three floor toms, 14" 16" & 18" , two 22" BD's and two snares. From this giant kit, he now uses the 22" BD, 10" & 12" rack toms, 16" floor tom,13" x 5" maple power piccolo snare with a 14" hammered bronze snare as second or spare. John uses a DW hi hat and DW single BD pedal. Due to his sponsorship deal in the early 90's John has used Paiste Cymbals - one pair 15" Signature Heavy hi hats, one 16" Signature Fast crash, one 16" 2002 crash, one 14" crash (this changes type frequently as he tends to destroy them!), one 18" 2002, one 9" splash, one 22" Signature full ride, and one 18" Signature Thin China. Drum heads are a mix, currently Evans on the BD, Remo on the toms and Aquarian on the snares. Sticks are Zildjian 5B dipped with wood tip. For home rehearsals John uses an electronic Roland V-Drum kit.
TV Appearances and Highlights:
Performing on BBC Radio 1 Club Live in the '60s
Working with performers such as Tommy Cooper, Dave Allen, Frankie Howerd, and Norman Wisdom in the '70s
Performing live on Carlton Television with his band Caruana & The Circle C in the '90s
A number of live TV performances in Germany & Switzerland.
Appearing as the 'roper' in the TV MacDonalds advert Lassoing the 'Hamburglar'!
Toured and gigged through Egypt, Dubai, Barbados, and many European cities