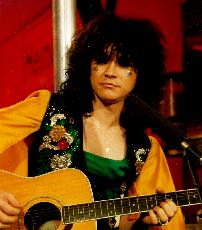 Photographer:Detlev Flohr
Name: Danielz
Height: 5' 7"
Birthday: 25 November
Eyes: Hazel

Past Official Record Releases:
Ancient & Square (Velvet Moon Records 1979)
Criminal Cage (Ace Records 1980)
Cadilac (Barracuda Blue Records 1988)
Baby Factory/Fantasy (Barracuda Blue Records 1991)

Member of Other Bands:
Lead singer in 1980's rock band, Tarazara

Recorded With:
Blackfoot Sue, Paul King (Mungo Jerry),
Hotei (Japanese rock star), Knox (Vibrators),
Martin Dobson (Eurythmics),
Andy Ellison (John's Children & Radio Stars),
Dino Dines (T.Rex)

Guest Appearances:
Werewolves of London LP by Midnight Rags 1980
(played lead guitars throughout),
Hot George single by Beau Brummels 1982
(played rhythm guitar),
Captain Rock LP track by Hotei
(No. 1 in Japan - Backing vocals)

Top 5 Bands:
T.Rex, Bob Dylan, Sex Pistols, Deep Purple & Queen

What Have Been The Highlights For You:
Recording Marc's music, but having the licence to
put our own individual stamp on the tracks. Playing
Britain's largest venues such as Wembley Arena.
Touring Japan to sell out venues. Gaining respect
from many of Marc's contemporaries. Watching
our audiences grow throughout the years.

Fave Songs Recorded With The Band:
Over The Flats, 20th Century Baby, most tracks
from Savage Beethoven, and my original material.

Guitars Played:
Gibson Les Paul Standard, Fender Stratocaster,
Epiphone Acoustic.

Effects Used:
Boss Digital Delay, Boss Chorus Box, Vox Wah Wah

My Message:
No-one can ever take Marc's place, no-one could
ever be that naive. Treat T.Rextasy as a band of
today, playing Marc's music as faithfully as
possible and recreating that special energy and
performance.