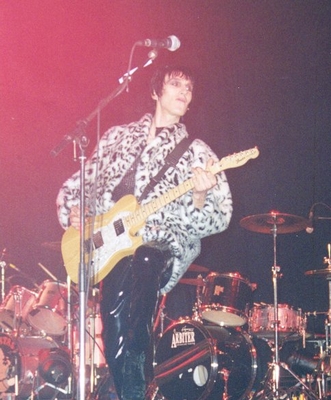 Neil in action.

Name: Neil Cross
Height: 6' 3"
Birthday: 7 April
Eyes: Brown
Nicknames: Taffy & Tall Bloke
Past Recordings:
Satellite City by Sister Midnight in 1989

Member of Other Bands:
Sister Midnight, and The Big Bang, both in the 80's

Guest Appearances:


Not exactly a 'guest appearance', but I did a            
commercial once for a film about water sports. I 
had to play guitar on the soundtrack. That was in 
1989.



Top 5 Bands:
It would probably be different if I answer this question
each month, but at the moment it's: T.Rex, Manic
Street Preachers, Suede, The Cult & The Verve.

What Have Been The Highlights For You:
The Arena tours in 1993 and 1994 certainly. Making
an official album. Touring Japan in 1995 and 1996. I
can't think of any other band I could be in for job
satisfaction.

Ambitions:
To play in America. I'd really like to play New York to
show them what we can do!
Fave Songs Recorded With The Band: 
Planet Queen from our 'Trip & Glide' 
Japanese album.

Guitars Played:
Fender Telecaster Thinline, Gibson Flying 
V,  Columbus Crest Semi-Acoustic, 
Kramer Focus 2000.

Effects Used:
Zoom 10/10 (Multi FX unit).

Fave T.Rex Number:
Again, this changes by the week. Today
it's 'Electric Slim & The Factory Hen' from
the 'Tanx' album. 

My Message:
It's always a pleasure to see everyone. I
hope you all keep on coming to our shows
and enjoying them as much as I enjoy 
performing and playing all of those great 
songs.